Three Phase Din Rail Energy Meter ADL400
Three Phase Din Rail Energy Meter ADL400
● Rated Current: 1 (6) A, 10 (80) A

● Rated Voltage: AC220V/380V, AC230V/400V
● RS485(MODBUS-RTU) Communication
● 12 digits LCD Display; 35mm DIN Rail Installation
● Multi-tariff: 4 Tariff Rates (Spike, Peak, Valley and Flat kWh)
● 2~31st Harmonic Measurement
● MID Certified
● Set parameters
● kWh Class 0.5S

Product detail
PARAMETER
FAQ
General
ADL400 three phase din rail electric meter is a smart meter designed for power supply system, industrial and mining enterprises and utilities to calculate the electricity consumption and manage the electric demand. It features LCD display, high precision, small size and simple installation.
It integrates the measurement of all electrical parameters with the comprehensive electricity metering and management provides various data on previous 48 months, checks the 31st harmonic content and the total harmonic content, realizes the remote communication and the remote control with switching input and relay output and boasts the alarm output.
It is fitted with RS485 communication port and adapted to MODBUS-RTU protocol. ADL400 can be used in all kinds of control systems, SCADA system and energy management system (EMS). The meter meets the related technical requirements of electronic meter in the IEC62053-21standards.

Specification
Specification

ADL400

ADL3000-E

ADL3000-E/CT

Voltage

Reference voltage

3×100V、 3×380V、3×57.7/100V、 3×220/380V

Consumption

<10VA

Impedance

>2MΩ

Accuracy

Error±0.2%

Current

Reference current

3×1(6)A,3×10(80)A

3×1(6)A,3×10(80)A

3×1(6)A,3×20(100)A

Accuracy class

Error±0.2%

Consumption

<1VA

Power

Active, reactive, apparent power, error±0.5℅

Display

LCD

Frequency

45~65Hz,Error±0.2%

Option Function

Communication

RS485, Modbus-RTU compatible protocol

Multi tariff energies

Adapt 4 time zones, 2 time interval lists, 14 time interval by day and 4 tariff rates

Harmonic

No

2-31st harmonic.

Switching

No

1 Switching output

NO

1 optocoupler input

Operation Temperature

-25 ºC~+55 ºC

Storage Temperature

-25 ºC ~+70 ºC

Altitude

≤ 2500m

Relative humidity

≤95%RH, no condensation, without corrosive gas
Dimension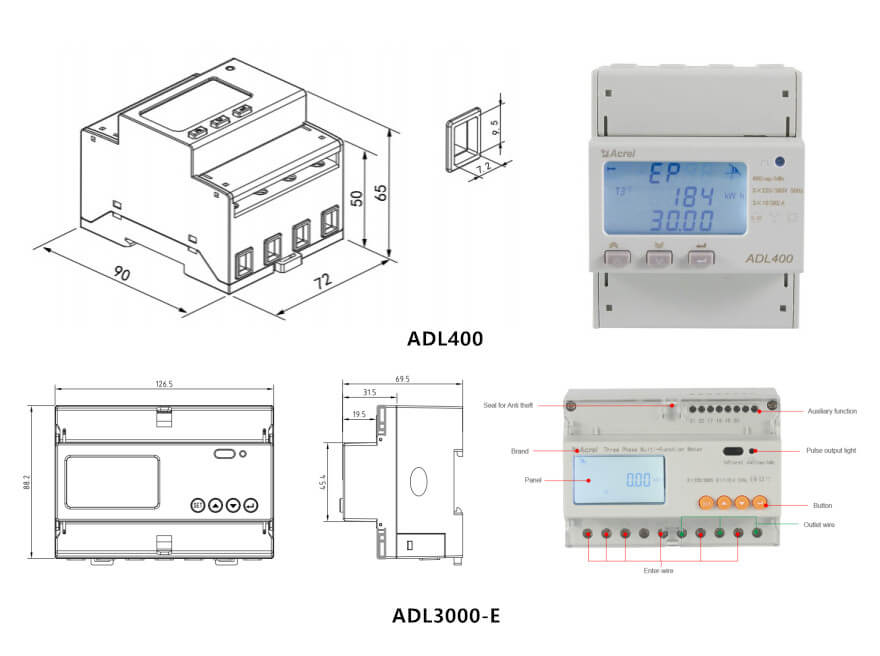 LCD Display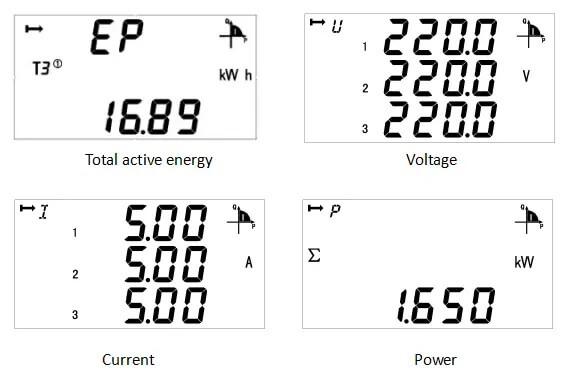 Wiring
Wiring sample of current and voltage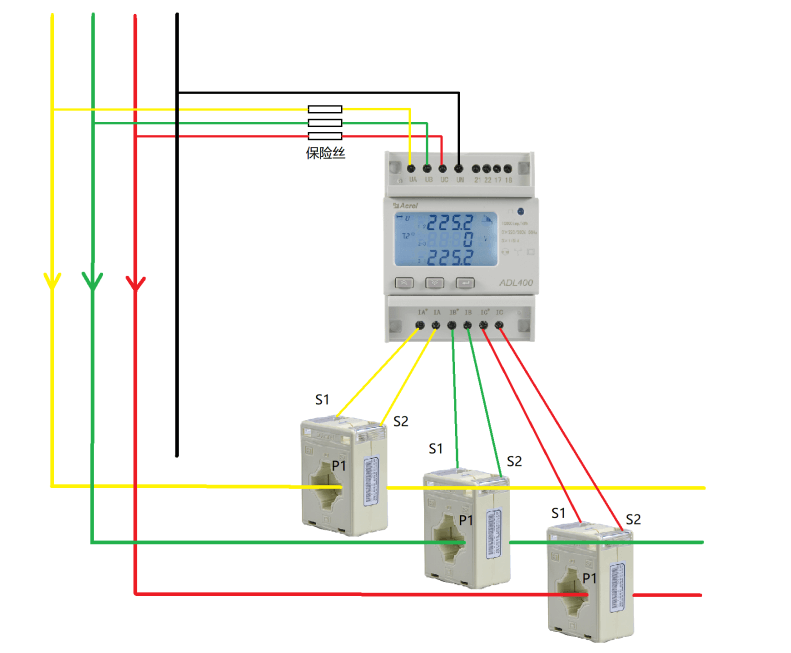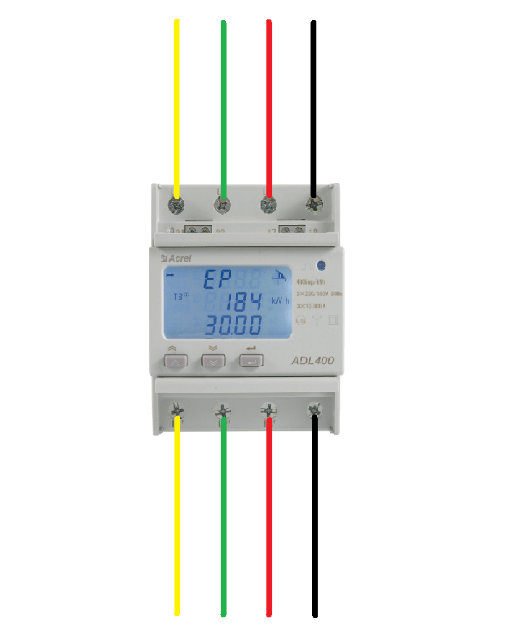 3 phase 4 wire Secondary CT Access & 3 phase 4 wire Direct Access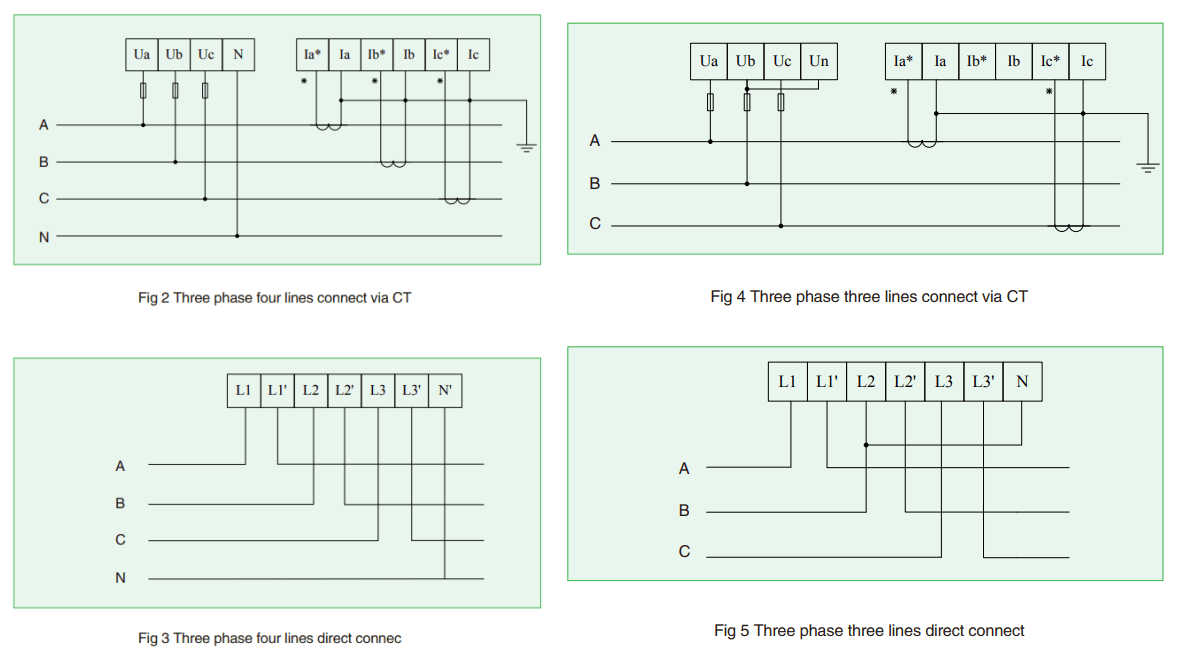 Installation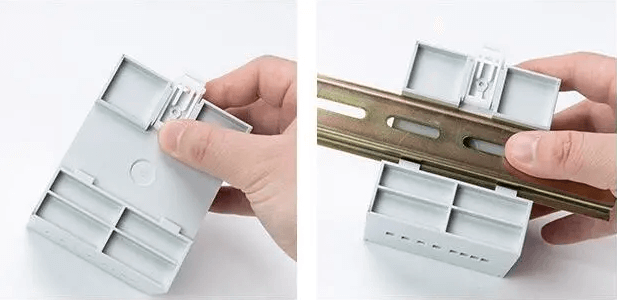 Din Rail 35mm
Related Solution
Electric Energy Management System
voltage

Nominal voltage

AC 220V

Nominal frequency

50Hz

consumption

<10VA

current

Maximum current

80A

Starting current

0.01A

Consumption

<1VA

Measurement performance

Accuracy

kWh Class 0.5

Range

0~9999999999.99kWh

Clock

accuracy

Error ≤0.5s/d

Active pulse

width

80±20ms

constant

1000imp/kWh,10000imp/kWh

Communication

Interface

RS485

Protocol

MODBUS-RTU

Temperature range

Work

-25℃~55℃

Storage

-40℃~70℃

humidity

≤95%(No condensation)

Altitude

<2000m
Q: The display power or energy count is inaccurate after the meter powered on.
A: Switch the meter display interface to the power (active power P, power factor λ) interface, and check whether the power display is negative or not. And whether the power factor is between 0.9-0.95, and then check whether the incoming and outgoing wires of the current signal wire are connected reversely (that is, the current the incoming wire must be the same as the incoming wire end of the meter), and consistent with the wiring diagram on the meter.

Q: It cannot communicate with the host computer normally after the instrument powered on.
A: 1. The voltage value between the communication output A and B of the measuring instrument should be between +(4.4-4.5)V .
2. Check whether the communication wiring method is correctly wired according to the wiring diagram (that is the communication terminal A/B of the instrument must be connected with corresponding to communication serial port A/B);
Feedback form contact with us